Coworking is a new phenomenon for working spaces that has seen a rapid rise in popularity over the last decade. If you find that a traditional office space does not serve you but you're going mad working at home, you've found the right article.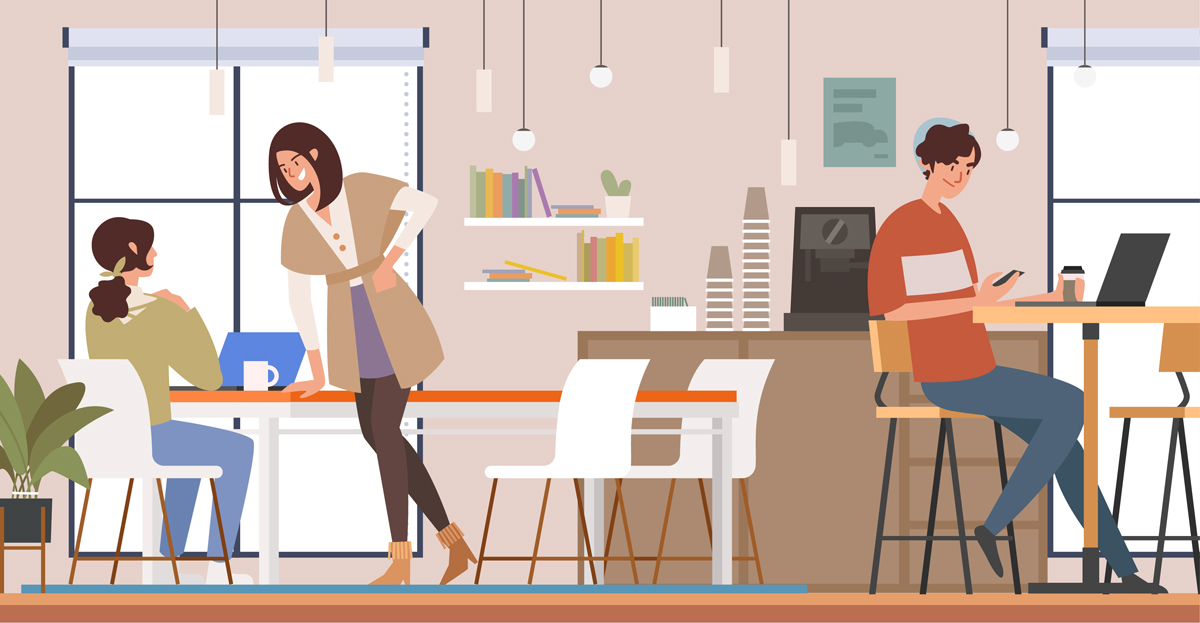 What is Coworking?
A coworking space is a service-oriented workspace that shares amenities, resources and offices to one or multiple companies. This helps to encourage business growth and collaboration, while also staving off loneliness and helping staff network. The workspace is the service: coworking frees business owners from the burden of workspace logistics, maintenance and the endless workout that is refilling the coffee machine. Coworking represents significant value for those who find that traditional office workspaces doesn't serve their needs, nor do other forms of telecommuting.
Growth of the Coworking Industry
The coworking industry began in 2005 and since then has seen a huge increase every year. Currently, there are approximately 700x more coworking spaces than there were in 2008, which amounts to 30% increase in coworking spaces each year. In 2019, there are approximately 35,000 flexible workspaces in the world which makes up 521 million square feet of coworking space. Coworking spaces currently make up 1% of the global corporate real estate portfolio and by 2030 coworking spaces are expected to represent 30% of US office stock.
Why is Coworking On the Rise?
In the last two decades, the way in which people work has changed dramatically. No longer is the office cubicle the default setting for, well, an office. The introduction of telecommunications essentially means as long as someone has a laptop and wifi access, they could work from anywhere, and what's the most popular telecommuting location? Home! Pair this with the development of messaging software such as Slack, Skype and improved shared cloud computing in general, and people can still collaborate efficiently while escaping some of the drudgery of the traditional office space: getting out of bed, packing for the day, commuting. As inner-city rents rise, commutes get longer and employees need to put in more and more unpaid hours just to get to the office, and more and more of them are opting for other methods. This is not to say traditional office spaces are bad—no, they are still very popular.
Where does coworking fit in? Coworking spaces are spaces where any group of people can cowork, share ideas, network and support each other to achieve a more optimal workflow and greater sense of community in their workspace. For a group of home-based entrepreneurs, a cafe isn't workable for in-person meetings—it's too noisy, and if there are regular meetings, the coffee and cake bill will begin to add up. Yet, everyone coming together in your own lounge is too personal and far from convenient; coworking is really for anyone that wants more inclusivity, opportunity and expertise in their workspace. Every coffee break talking to another entrepreneur is a networking opportunity!
Who is coworking for?
One of the best things about coworking is the diversity you find yourself in the same space with. Coworking is really for everyone: businesses, entrepreneurs, freelancers. If the event room is being used, that space becomes temporarily open to anyone whose purpose may not necessarily be business-centric, but more communal or supportive. Coworking spaces can have individual freelancers, all the way to small businesses.
The coworking lifestyle is for those who hold collaboration and community as key values. They enjoy bouncing ideas off others, they respect the human aspect of business and even though they are all have their own individual business goals, they want their peers to succeed as well.
The service itself
Business owners and employees expect their space to be convenient for them. Just like with many of our services these days, Uber, Uber Eats and Airbnb, convenience is in high demand. People want an option that is time efficient, cost-effective and doesn't come with too many limitations. Coworking is exactly that: it's a subscription service where you can hire working space for a period that suits them best. It's a lot more than just a simple office space, a kitchen and cleaning services. Many coworking services also feature a common area, private meeting rooms, dedicated desks and hot desks—premium spaces may include a podcast studio, photography studio and an events room. How else could a startup or freelancer gain the same resources as a large business?
Setting up such services on your own will cost you a lot, even if you're running only basic services. Furthermore, you don't have to worry about building and appliance maintenance, dealing with internet service providers or coffee supplies. All the admin is taken care of and you are able to focus on what's important: your business and its bottom line. A temporary coworking space keeps things cost-efficient while maintaining business freedom. Going overseas next month? No problem, simply organise your subscription to time out at that point.
Benefits for Coworking Space Owners
Coworking is not only beneficial for those sharing office space, it's also efficient for the building's owners. Entrepreneurs are always looking to expand but, for many, purchasing an entire new office space is financially unrealistic, and a long-term investment that doesn't serve their plans. On the other hand, office-space owners want to minimize the amount of time their office is left empty, as waiting for the next long-term commercial tenant to make a serious offer can take months. Instead, owners can create a temporary coworking space for multiple businesses, removing the burden of owning such a lease and its accompanying financial risk. It also gives owners the possibility of finding their next commercial tenant, in whom they have already established a positive and trusted relationship through coworking.
Coworking has greater collective benefits for everyone—business owners, property owners, and employees. Coworking offers benefits that a traditional workspace cannot achieve in terms of flexibility. This makes it the perfect fit for the huge market of businesses who previously did not quite fit in either a traditional office or at home.
In 2018, we first had the idea of building a coworking space in Kolkata. After evaluating the potential of such a space throughout 2019 and eventually deciding that it would be useful for local entrepreneurs, we founded a new coworking venture, Zioks. Zioks aims to provide coworking spaces to entrepreneurs, freelancers and small businesses within Kolkata. The whole point of coworking is to help these parties find business success by sharing ideas and networking within a productive community. We started CodeClouds in a small apartment—a coworking space would've allowed us to fast track our progress, and I'm delighted to have had a part in building one. We expect to open our doors in early 2020, so if you're in Kolkata and need a coworking space, come check us out.