Something that will never be the same is the perception towards eCommerce shopping post COVID-19. Learn how far-reaching the effects have been on different industries in this blog.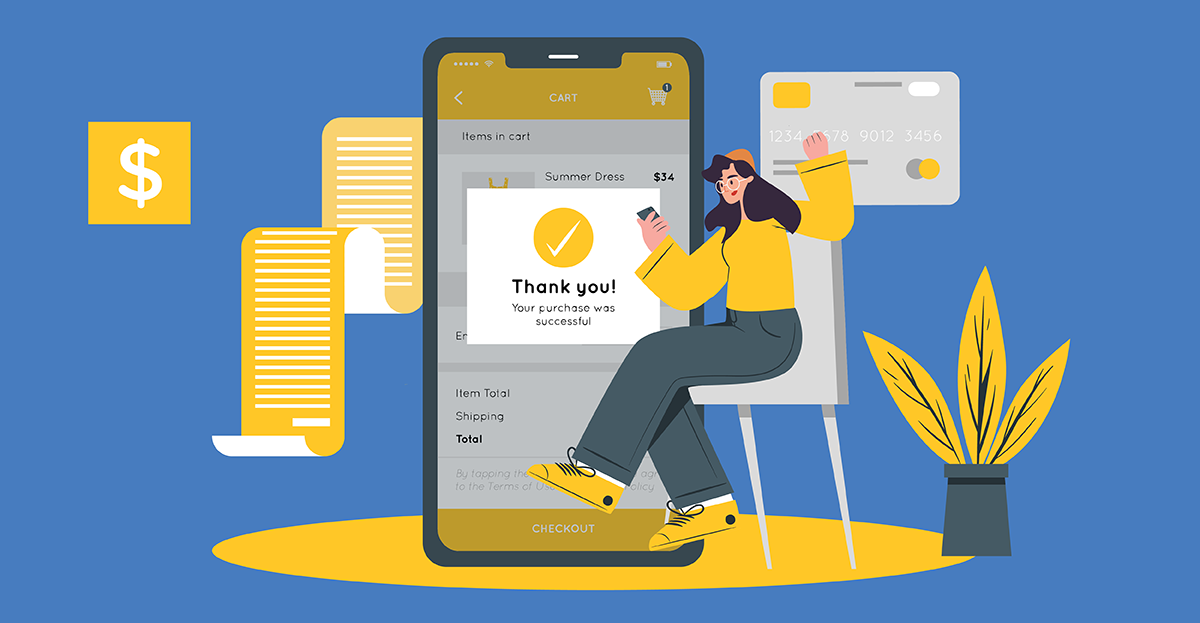 One thing that the COVID-19 pandemic has changed is the way people look at online shopping. It's no longer optional for many people. Instead, it is an essential commodity to get medical and grocery supplies in the social distancing times. While many small businesses have borne the brunt, there have been several businesses that rose to the cause and provided fast-track home delivery of essential goods. According to reports, 74.6% of US internet users preferred online shopping over going to malls or grocery stores for getting supplies during the peak of the pandemic. Data shows that during the mid-March period, 50% of the Chinese population and 31% of the Italian population relied on eCommerce 'more frequently' than 18% of the UK population following the course.
The COVID-19 Commerce Insight tracker is a live data monitoring system that provides insights about the global financial impact of COVID-19 in terms of the eCommerce industry. The data shows that eCommerce revenue has risen by 37% in the first week of April in the US. It doesn't come as a surprise in the social distancing times when people are drawn to crafts, books, music, movies, and yes, even shopping for the staples.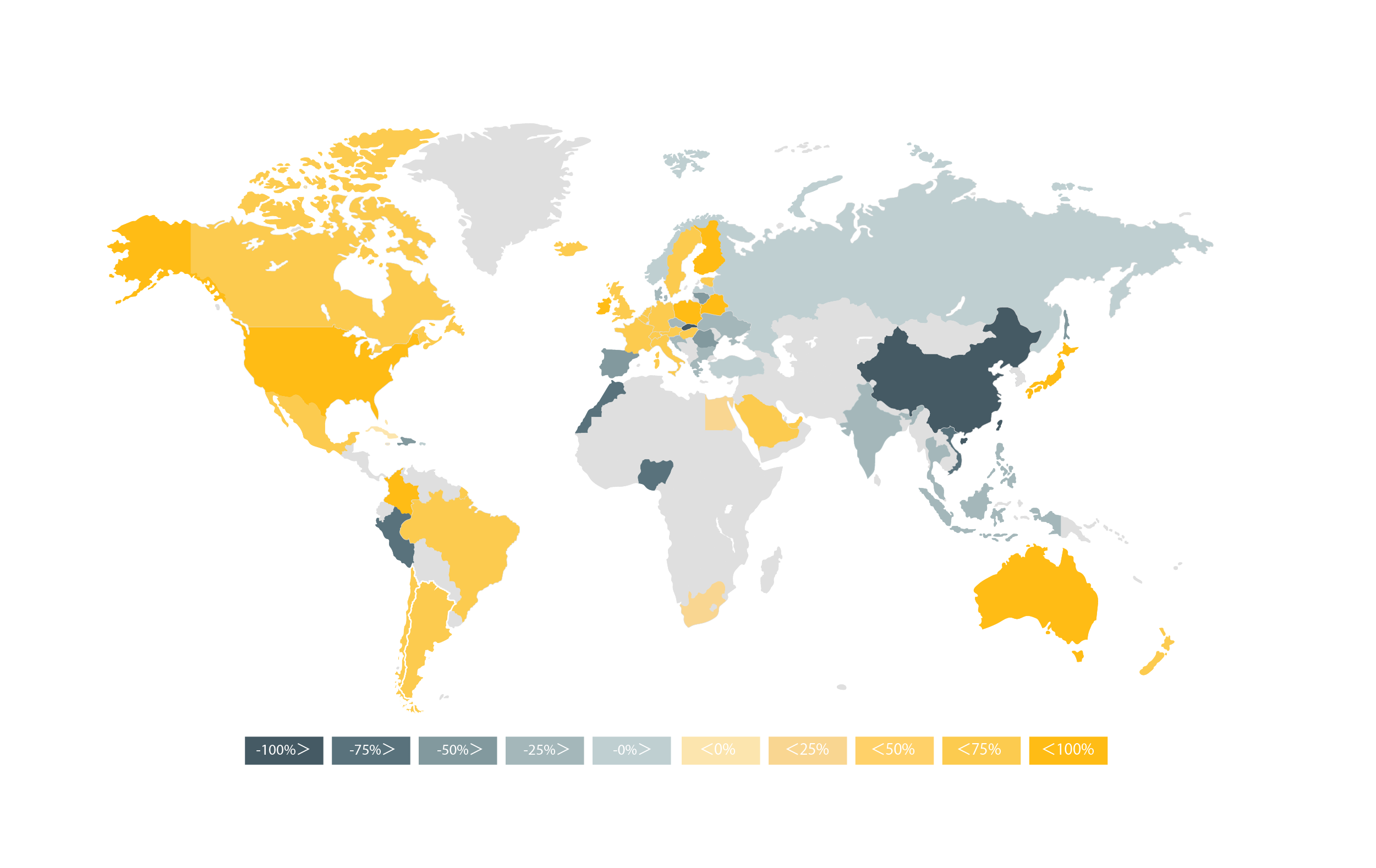 Source: Emarsys/GoodData
This image shows the growth or decline of online purchases around the world since the pandemic began and people were placed under lockdown.
Panic Buying
While the Covid-19 lockdown was imposed in China's education capital, Wuhan, the world didn't witness any panic buying there as people still went out with masks to purchase essentials. Even after 73 days of total lockdown, there wasn't too much that people bought online. According to Nikkei Asian Review reports, it was the production of masks that gradually calmed the fear among the people.
However, when COVID-19 reached the USA, Europe, and other countries of the world, the first things to go entirely off the shelves were essential commodities like protective masks, sanitizers, toilet rolls. That just set off a chain of events that led to rampant purchases, rapid price hikes, and even in some cases imposing strict government norms to control hoarding.
Why Does Online Shopping Make People Feel Safer?
For starters, COVID-19 is a severe contagious disease, and is most likely to be caught when in close proximity to other people. The chances that the virus can survive on a package you've received in the mail are also very low. According to The World Health Organization in 'Changes in the Face of Uncertainty,':
"The likelihood of an infected person contaminating commercial goods is low, and the risk of catching the virus that causes COVID-19 from a package that has been moved, traveled, and exposed to different conditions and temperature is also low."
COVID-19 has already begun changing the behavior of online shoppers, irrespective of their age and gender. According COVID-19 and Ecommerce by the United Nations Conference on Trade and Development, about 50% of Chinese and 31% Italians have been using eCommerce 'more frequently' than before, as China and Italy faced COVID-19 outbreak.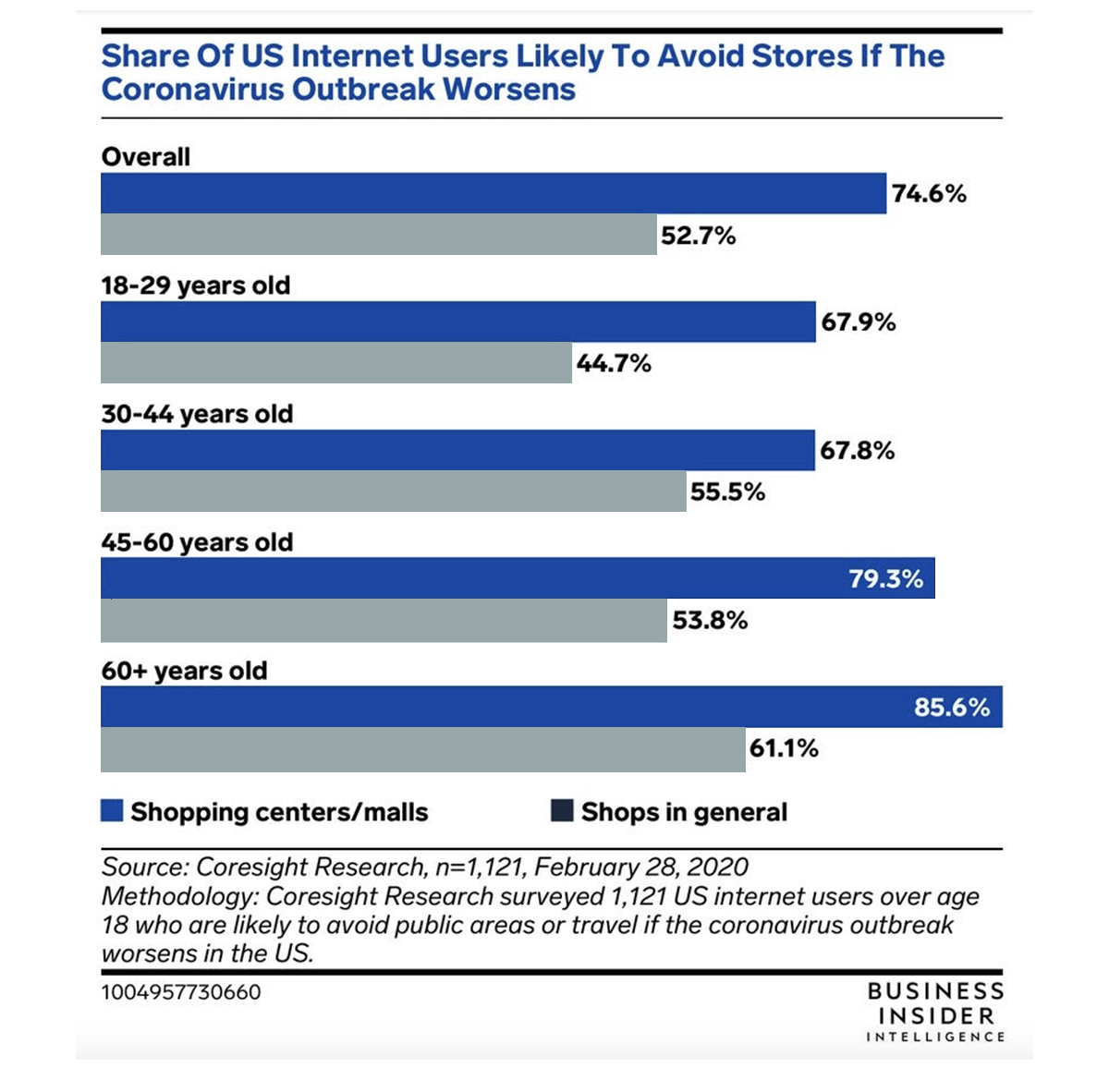 Source: Business Insider Intelligence
In the USA and U.K, it was observed that as much as 96% of the Millenials are serious about the pandemic and its catastrophic effects on the economy. Such awareness reflects in their behaviors that now focuses on buying essentials and having cutbacks on spending.
Change in shopping behavior was also observed in 24% of the boomers (55-75 years old), and 34% of Generation X are less concerned than Millenials.
In India, according to reports by the NRF, 50% of consumers now rely on online purchases of essential items like groceries, house cleaning supplies, that they preferred purchasing from their nearby stores. The lockdown has spiked the dire need of contactless shopping and home deliveries, and as a result there has been a rise of online grocery stores around the world.
Understanding the Revenue Changes in eCommerce and other industries
Social distancing has led to a natural aversion to brick and mortar stores and a growing preference for online shopping of essentials throughout the world. However, because of the lockdown, national economies of several countries are in jeopardy as significant profitable industries like manufacturing, oil, and petroleum, banking, aviation, telecommunication came to their knees. The UN Labour agency claims that because of the vulnerability, and in some cases downfall of prominent corporations, 1.6 billion people across the world now face major job threats and direct financial stress.
In eCommerce, this colossal shift can be seen, heard, and felt predominantly by viewing the traffic, demand, and orders placed. Since the pandemic, many online retailers in non-essential commodities like books, shoes, designer clothes have now shifted to manufacturing and selling protective masks, hand sanitizers, and protective face shields used by medical professionals. The big global players in online food delivery services like Zomato, Swiggy have switched to delivering medical and grocery supplies, along with emergency food deliveries to senior citizens and other sensitive groups.
Amazon, on the other hand, has at times restricted ordering to groceries and other essentials like baby care products, as well as provide fast-track deliveries in most of the countries it operates.
The Impact on Grocery eCommerce
By the second week of March, most people across the world had mostly turned to online grocery shopping, because of the strict lockdown norms and existing COVID-19 scares. According to the Mi9 digital commerce platform, as much as 2400% increase in concurrent website traffic was noted, leading to the jump of 12,000 simultaneous users within one day, as compared to the pre-observed 500 concurrent users in a day.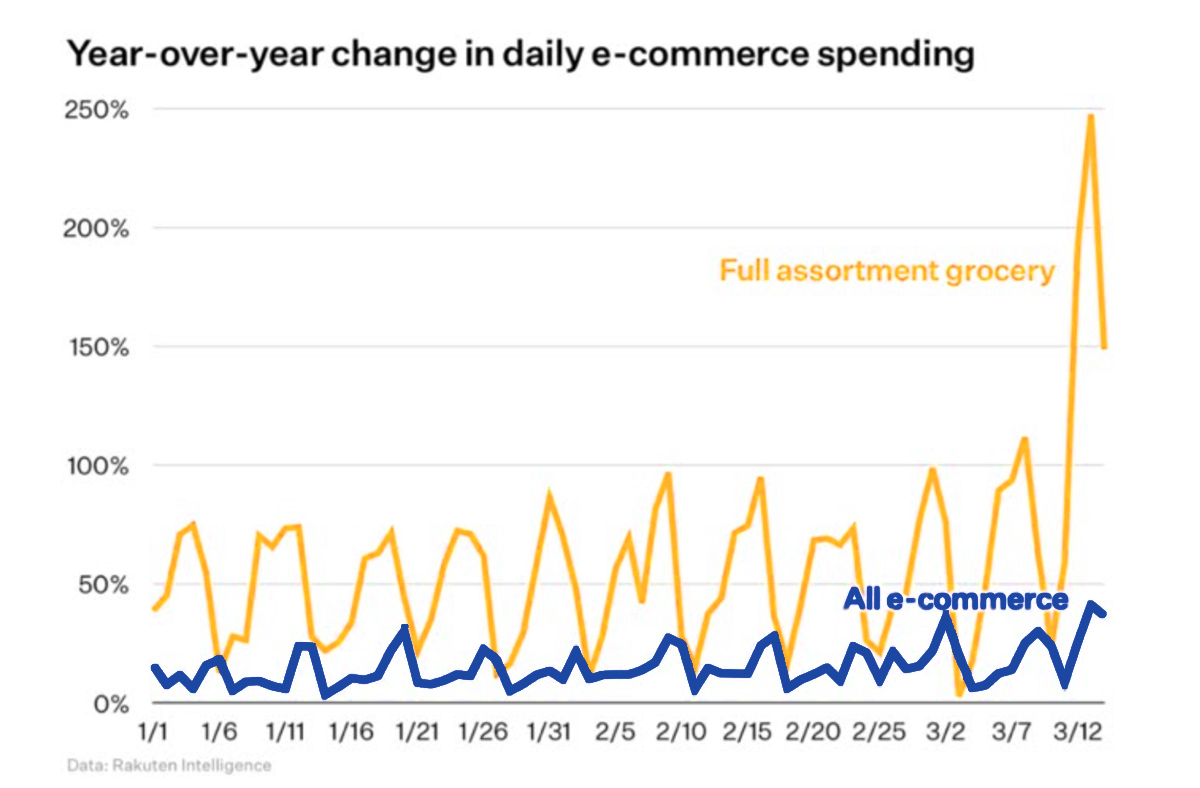 Source: CommonThreadCo
Apart from the social distancing, it is also local shortages that played its part in compelling as large as 26.5% of people to go online for groceries, since their local stores were out of stock.
The Impact on the electronics industry, including Smartphones
COVID-19 has caused unprecedented disruptions to the global supply chain in the quarantine period. Since China is the largest producer and exporter of various electronics input supplies, the industry giants like Apple Inc., Samsung Electronics Co., Ltd., Canon Inc., among others, look towards a building gap of supply and demand chain. Such precarious are the consequences that even the industry leader, like Apple, now faces serious concerns about not meeting the objectives of the first quarter in 2020.
The Booming of Subscription-based Digital Streaming industry
In an already in-demand situation, COVID-19 escalated the need for global digital services around the globe as people recoiled into the safety of their homes. Services like Netflix, Amazon, Hulu, and Disney+ see a massive rise in subscribers in the first few months of 2020, bringing several blockbuster studios, sometimes earlier than previously released dates.
Other Affected eCommerce industries
eCommerce generally covers a vast ground of products, spanning across several industries. According to the Common Thread Collective, the COVID-19 online sales scenario can be broken down into the following numbers: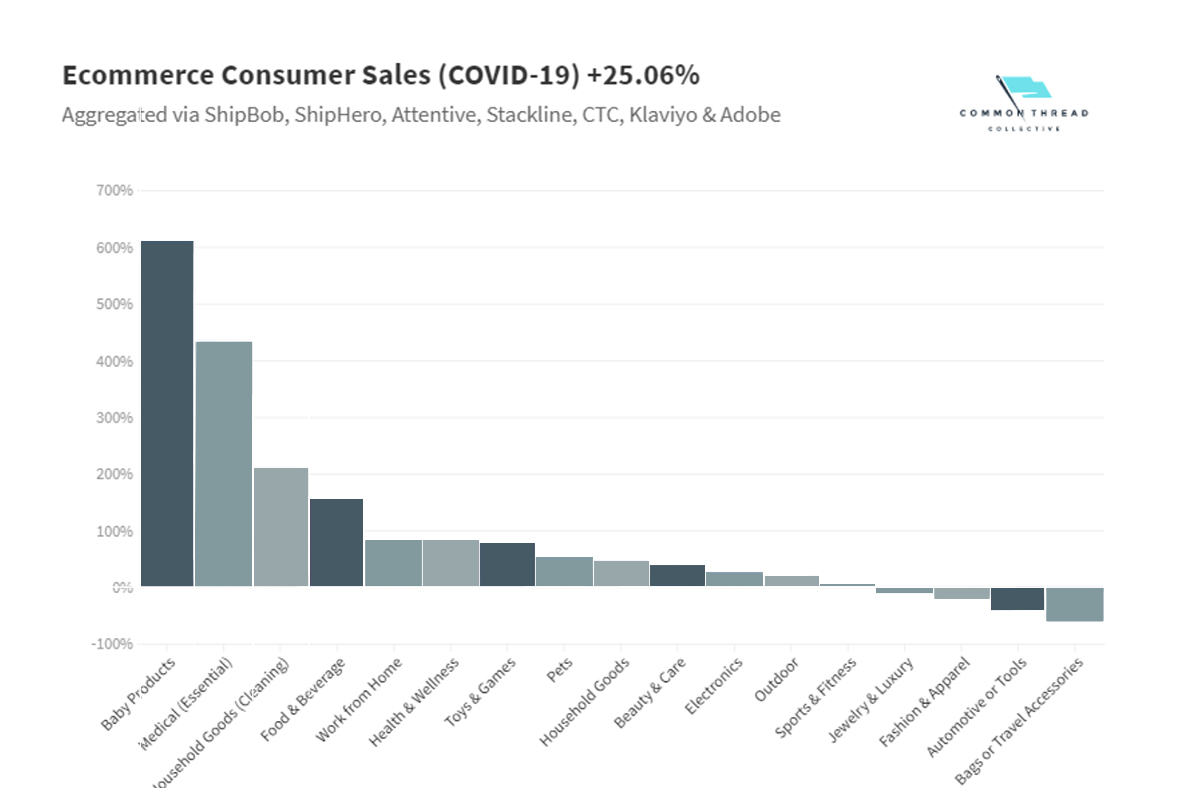 Source: Common Thread Collective
It's the omnichannel sellers who are bearing the brunt of the pandemic, as their retail stores close across the world. Departmental store giants like Macy's, JC Penny are all experiencing massive losses. The fashion industry giants like Vogue Business are witnessing a considerable loss of $10 billion in 2020, as a direct outcome of the COVID-19 pandemic.
Product Category Shifting in COVID-19
Nielsen, the marketing research giant, provides some insight on how the gradual shift is changing the face of industries as we knew them: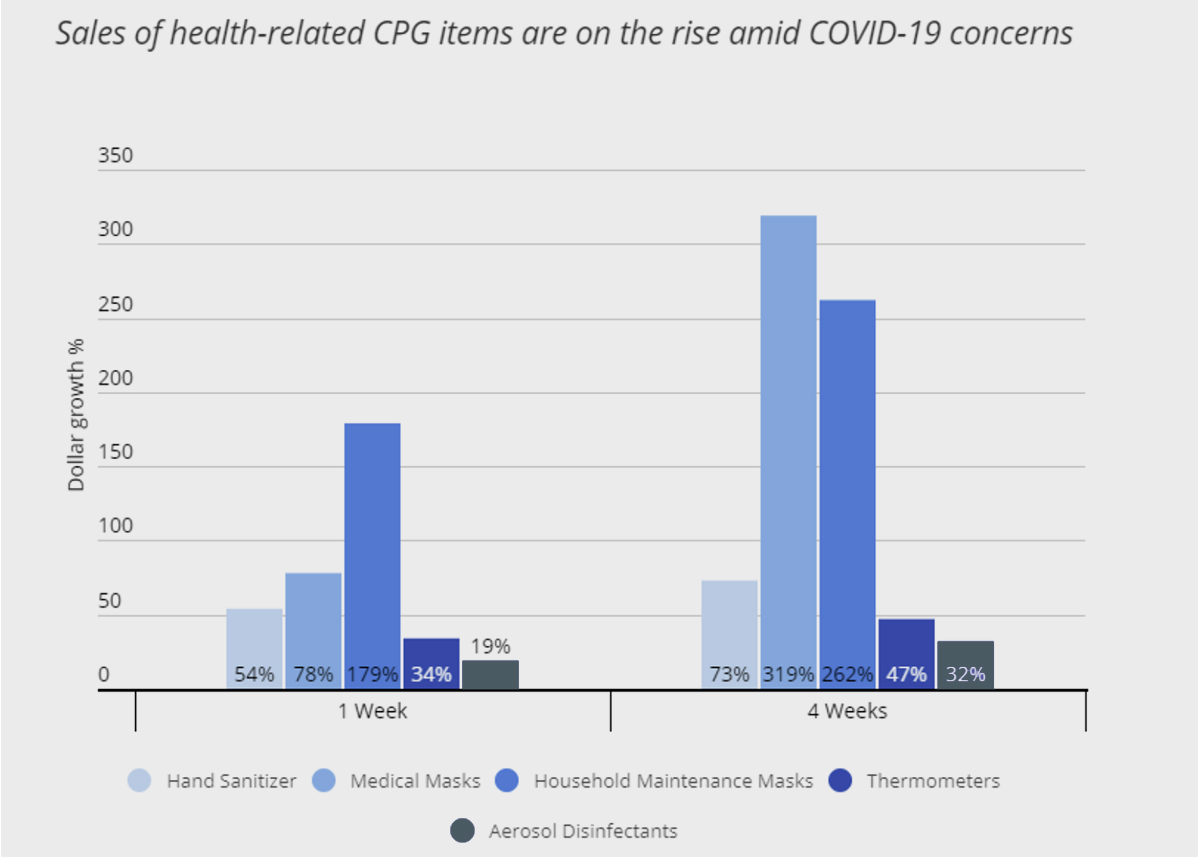 Source: Nielsen
Health manufacturing industries now focus on preventive health and wellness products like surgical masks, hand sanitizers, personal protective equipment for medical professionals, rubber gloves, etc.
The pantries and food delivery services look more into keeping stocks for groceries, farm supplies, shelf-stable goods, cleaning essentials.
Takeaway
The COVID-19 pandemic has undoubtedly sent significant shockwaves around the world to public health and the global economy. For many small and medium-scale industries, the epidemic is causing irreversible damages to this very moment. However, as the customers adapt and lean towards buying essential commodities, for the time being, industries that can best suit to provide such goods may find it easier to establish a foothold as the dust settles, post COVID-19. It's the hope that lives on predominantly across centuries, where humans and nations have survived more severe pandemics.
If you need updated, custom checkout pages for Shopify or need Specialist CRM Consultants, CodeClouds has the solutions you need. We offer dedicated developers at a low monthly cost and offer 18/5 support. Head to our website to learn more.